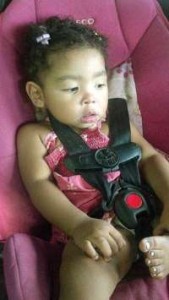 Name: Saharah Weatherspoon.
Died: January 1, 2014.
Age at death: 23 months.
Cause of death: Abuse.
Location: Ringgold, Georgia, USA.
Disability: Developmental delay.
Details:
When doctors noticed Saharah's bruises in the months before her fatal head injury, Saharah's foster mother said Saharah was falling down because of her developmental delay and asked for a helmet. Saharah died of severe head injuries; she had been beaten to death by her foster mother.
Perpetrator: Clara Louise Edwards (Foster mother), convicted of child cruelty.
Source: Defense wraps up its case with afternoon of testimony in Clara Edwards murder trial
Jury Reaches Verdict in Foster Child Death Case