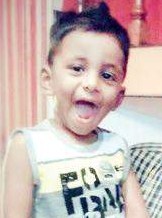 Name: Samvith.
Died: March 28, 2018.
Age at death: 4.
Cause of death: Poisoned, strangled.
Location: Bengaluru, Karnataka, India.
Disability: Autism.
Details:
Samvith had been denied entrance to two schools because he was autistic, so his father poisoned and strangled him, then hung himself.
Case status:
M. Vishwanath (Father), deceased.
Source:
KSRP cop strangles 4-year-old son to death, hangs self
Bengaluru: Cop kills differently abled son, hangs self
KSRP head constable kills autistic son, hangs self