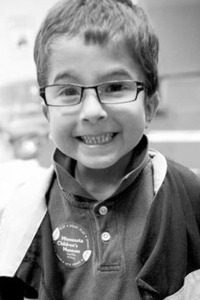 Name: Seth Johnson.
Died: March 30, 2015.
Age at death: 7.
Cause of death: Medical neglect.
Location: Plymouth, Minnesota, USA.
Disability: Fetal alcohol syndrome, reactive attachment disorder; parents unofficially diagnosed him with PTSD and TBI.
Details:
Seth's adoptive parents claimed he had been diagnosed with fetal alcohol syndrome and reactive attachment disorder, though no records corroborating this could be found.
When Seth was seven, he became sick. His parents, instead of getting him medical help, did online research and diagnosed him with PTSD and a traumatic brain injury.
Seth died of untreated pancreatitis. When he died, he was badly malnourished and covered with injuries, including bruises and pressure sores. His parents said the bruises came from Seth throwing himself down the stairs, and that they had not gotten him medical care because Seth did not like going to the doctor.
Perpetrator: Timothy David Johnson (Adoptive father) and Sarah Nicole Johnson (Adoptive mother), charged with gross misdemeanor child neglect.
Source:
Plymouth parents charged after allegedly refusing to take 7-year-old, who later died, to doctor
Parents charged with neglect in child's death
Minn. parents let son, 7, suffer wounds, inflamed pancreas with no medical attention before he died, police say
Plymouth Parents Charged with Neglect after 7-Year-Old Boy Dies
Sick boy died because parents prayed instead of calling 911: prosecutor
Parents accused of letting boy die rather than bring him to doctors
Minnesota parents let son, 7, suffer wounds, inflamed pancreas with no medical attention before he died, police say
Minnesota parents charged with neglect after 7-year-old's death
Minnesota Couple Allegedly Let 7-Year-Old Son Die of Sepsis Rather Than Bring Him to Doctor
Minnesota couple charged with neglect in 7-year-old son's death may have fled the country