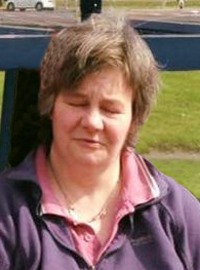 Name: Sharon Greenop.
Died: Months before November 10, 2016.
Age at death: 46.
Cause of death: Fatal abuse.
Location: Troon, Ayrshire, Scotland.
Disability: Prolapsed disc; mobility impaired.
Details:
A year before Sharon died, they had fired her aide. Sharon became increasingly isolated and was mistreated and neglected by her family. They even threw away the table that she used to do jigsaw puzzles on.
How Sharon died was initially unknown because, when she died, her family left her body in her room for several months while they pretended on social media that she was still alive.
Police labeled Sharon's death "suspicious" and investigated for some weeks before eventually arresting her sister for beating Sharon, then refusing to get her treatment for the injuries that ultimately proved fatal.
Before her disability, Sharon had worked at a bakery.
Perpetrator: Lynnette Greenop (sister), convicted of murder, sentenced to 23 years; Shayla Greenop (Daughter), charged with murder, acquitted.
Source:
Social workers could have prevented abuse of Troon murder victim Sharon Greenop
Disabled Ayrshire mum 'murdered by sister after social workers abandoned her'
House of horrors: Disabled mum may have been dead in bedroom for months
Mum laid dead in bedroom for months in house full of tarantulas, rats, a blind cat and three-legged sheep dog
Woman may have lain dead in Troon home for months
Body of mum was found when neighbours noticed smell and fly infestation
Body of Ayrshire mum may have lain dead in her bedroom for months while family continued living there
Sharon Greenop 'lay dead in house full of flies for FIVE MONTHS'
Woman 'lay dead for WEEKS' as daughter and sister carried on as normal
Police confirm death of Troon mum found in bedroom treated as 'suspicious'
Funeral to be held for disabled mum who was found decomposing in Troon
Sister of Sharon Greenop whose body was discovered in her Troon house appears in court charged with murder
Murder trial: 'Family used candles to hide body smell'
Sister and daughter of disabled Troon mum Sharon Greenop on trial for murder
'Murder victim' spotted with black eye
'Fear factor' when sister moved in
Disabled woman's sister guilty of murder as daughter is cleared
Jailed: Callous killer who left sister to die in agony