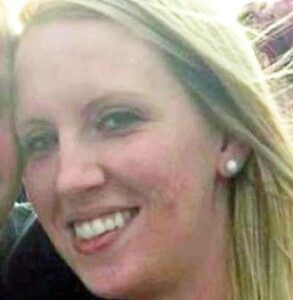 Name: Rebecka Jeanann Pearce.
Died: November 11, 2016.
Age at death: 30.
Cause of death: Gunshot.
Location: Fuquay-Varina, North Carolina, USA.
Disability: Bipolar disorder, anxiety.
Details:
Rebecka and her husband were in the process of getting a divorce, and Rebecka was staying at her parents' house. Her husband, a sheriff's deputy, had filed a protective order against her, claiming that her bipolar disorder made her dangerous to her children.
Rebecka's ex-husband broke into her parents' home and shot her, then killed himself. Her two young daughters were in the house at the time; they are unhurt, and are now staying with family.
Rebecka was a hairstylist.
Case status:
Jeremy Pearce (Ex-husband), deceased.
Source:
Rebecka J. Pearce, age 30
Marital discord preceded apparent murder-suicide of Granville sheriff's deputy and his wife
Sheriff's deputy, wife shot dead at Fuquay-Varina home