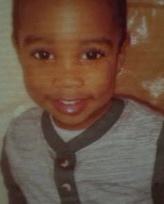 Name: Tevaun Williamson.
Died: November 16, 2016.
Age at death: 7.
Cause of death: Abuse.
Location: Memphis, Tennessee, USA.
Disability: Autism.
Details:
Tevaun was starved and beaten by his parents for some time before he died of blunt force trauma, dehydration, and malnutrition.
Perpetrator: Michelle Williamson (Mother) and Daryl Lee (Mother's boyfriend), both charged with first-degree murder, aggravated child abuse, and aggravated child neglect.
Source:
Couple charged with murder in autistic 7-year-old's death
Parents Charged in Boy's Beating Death in Tennessee
Couple Indicted For Murder In Death Of Woman's 7-Year-Old Son
Mother, boyfriend indicted in 2016 beating death of 7-year-old