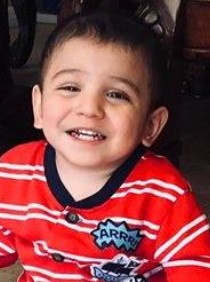 Name: Thaddeus Sran.
Died: July 23, 2020.
Age at death: 2.
Cause of death: Murder.
Location: Fresno, California, USA.
Disability: Due to prematurity (Nonspeaking; feeding tube).
Details:
Police grew suspicious when Thaddeus's parents reported him missing, but almost immediately stopped cooperating with the missing-child investigation. A few days later, Thaddeus's burned body was found and they were charged with murder.
Perpetrator: Briseida Sran (Mother) and Sukhjinder Sran (Father), both charged with murder.
Source:
Prosecutors could pull from the past in Thaddeus Sran murder case
Parents of Special Needs Toddler Who Vanished in California Arrested for Murder
Charred Remains of Missing California Toddler Found, Parents Arrested for Murder