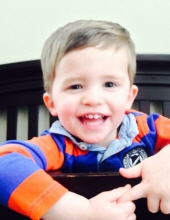 Name: Tyler W. Bryan.
Died: December 11, 2015.
Age at death: 3.
Cause of death: Murder-suicide.
Location: Rolesville, North Carolina, USA.
Disability: Either Tyler or his twin brother had "special needs".
Details:
Tyler's mother strangled him before setting her bedroom on fire and killing herself. Tyler's twin brother, left alive in another room, survived the fire.
Perpetrator: Kristy Bryan (Mother).
Source:
Rolesville police: Fire was murder-suicide
Tyler William "TyBry" Bryan