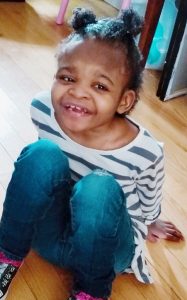 Name: Zha-Nae Wilkerson, aka Zah-Nae, aka Zah-Nae Rothgeb.
Died: January 3, 2019.
Age at death: 9.
Cause of death: Neglect.
Location: Warwick, Rhode Island, USA.
Disability: Cerebral palsy.
Details:
Zha-Nae lay neglected in a filthy house while her mother left her fifteen-year-old brother, also disabled, to care for her. She was denied her wheelchair because the house was either not accessible or simply too cluttered for the chair to fit, and had to crawl down the hall. She was found face-down in the bathtub, having died from drowning, and her mother was arrested and charged with manslaughter. Later she was also charged with neglecting Zha-Nae's seven siblings.
Perpetrator: Michelle Rothgeb (Adoptive mother), charged with manslaughter and cruelty or neglect to a child; charged with 7 counts of cruelty or neglect to a child.
Source:
New charges filed against Warwick woman accused of manslaughter in death of 9-year-old
Warwick woman pleads not guilty in adopted girl's death
9-year-old RI child's death due to 'inaction' by DCYF, report notes
Child Advocate's Office to release report on death of Warwick child
Mom charged with manslaughter in death of 9-year-old Warwick girl
Warwick woman charged with manslaughter in death of adoptive daughter
DCYF Director: Neglect, deficiencies contributed to 9-year-old's death
Warwick girl whose death is under investigation had cerebral palsy, according to uncle
Police arrest guardian in death of 9-year-old Warwick girl
Guardian arrested in death of Warwick girl
DCYF: Child, 9, dies; Police investigating
Mother held on bail at arraignment in death of 9-year-old Warwick girl
Handicapped 9-Year-Old Dies In Filthy Home, Mother Jailed
DCYF head to address questions surrounding death of 9-year-old girl in Warwick
Disabled girl died after mom made 8 adopted kids fend for themselves to beat flu
Mother of 8 adopted children with special needs arrested after one dies
DCYF making changes in light of 9-year-old's death in Warwick
A year before death of 9-year-old girl in Warwick, DCYF social workers raised red flag
Warning signs missed in home where Warwick girl died
Biological family has 'questions and concerns' for DCYF after child's death
Death of girl prompts changes to RI child welfare agency