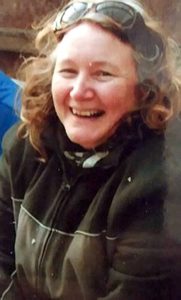 Name: Ann Marie Pomphret.
Died: November 2, 2018.
Age at death: 49.
Cause of death: Murder.
Location: Warrington, Cheshire, England, UK.
Disability: Autism, cancer.
Details:
Ann loved horses and owned several. One of her favorite TV shows was CSI.
One day when she was out in the horse barn, her husband bludgeoned her to death with a crowbar. He said that he had done it because she had been verbally abusive to him and their daughter.
Perpetrator: David Pomphret (Husband), convicted of murder, sentenced to life.
Source:
Chilling video shows man who beat wife to death lying about her murder
Husband shops with wife at Asda minutes before brutally murdering her
Husband found guilty of murdering wife with a crowbar
Husband tearfully reveals he battered his wife to death when she mocked him as 'limp and useless' over his erectile dysfunction
David Pomphret tells murder trial how he burned his clothes after killing wife
Murder-accused husband 'deserved a medal'
Barclays bank exec beat wife to death with crowbar after she called him 'useless'
Barclays exec battered wife to death with crowbar after 'years of abuse'