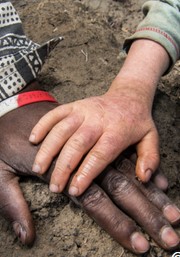 Name: Henry Mokoshoni; also called "Hari" or "Harry Mockshon".
Died: February 26, 2016.
Age at death: 9.
Cause of death: Unspecified homicide.
Location: Mpakati, Machinga District, Malawi.
Disability: Albinism.
Details:
When Henry's uncle took him from his mother's house, that was the last time he was seen alive. It's unknown how Henry died because only his head was ever found.
He leaves behind a twin brother named Harrison, who also has albinism, and a mother and stepfather who still mourn his death.
Case status:
Elias Chatha (Uncle), charged with murder.
Source:
5 facts about albinism in Malawi
Families push for timely justice on albino cases
Malawi Police net murder suspect on albino child
Albino nine-year-old 'decapitated' in Malawi as shoot-to-kill policy fails to prevent ritual killings
STILL ON MATTERS OF COMPROMISED SECURITY
Killed for their bones