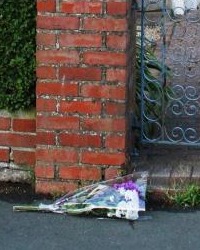 Name: Jean Elizabeth Irwin.
Died: June 20, 2016.
Age at death: 83.
Cause of death: Asphyxia.
Location: Shanklin, Isle of Wight, England, UK.
Disability: Dementia.
Details:
Jean's husband killed her by bludgeoning her with a hammer, then strangling her, before taking his own life.
Case status:
John David Irwin (Husband), deceased.
Source:
Shanklin couple found strangled and hanged
Terminal cancer patient who killed dementia-suffering wife left note to say 'sorry for nuisance' then took own life
Shanklin deaths: Man strangled woman and killed himself
Police launch murder investigation into Shanklin death
Pensioner, 77, is found hanged alongside body of his wife, 83
Murder investigation after two elderly people found dead in home
Man with terminal cancer killed dementia patient wife, left note to say 'sorry for the nuisance' and took own life
Pensioner, 77, who killed his ill wife before taking his own life apologises
Pensioner's heartbreaking suicide note after killing wife he couldn't care for