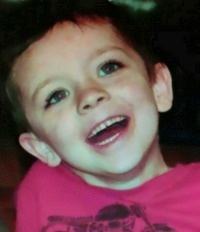 Name: Tyler Joseph "TJ" Caudill.
Died: Late August 2016; body found November 13, 2016.
Age at death: 6.
Cause of death: Malnutrition.
Location: Portsmouth, Ohio, USA.
Disability: Autism.
Details:
TJ was abused and starved by his mother and her boyfriend; then he went missing. His body has been found, and his mother and her boyfriend charged with murder when it was found that TJ's death was a homicide. He had been abused, forced to stand and walk for hours at a time, locked in a bathroom, and starved to death.
Case status:
Margarita L. White (Mother), pleaded guilty to murder and child endangerment, sentenced to 18 years to life.
Douglas Lee Hunt (Mother's boyfriend), convicted of aggravated murder, child endangerment, torture, abuse, tampering with evidence, and abuse of a corpse, sentenced to life without parole.
Source:
UPDATE: Mother, Boyfriend charged in death of 6-year-old boy
Mother, Boyfriend Arrested in 6 Year Old Boy's Death
Portsmouth Police find body amidst search for missing 6-year-old
Scioto grand jury indicts couple in death of autistic boy
Appeals court upholds conviction/sentence